Neoenergia reports earnings of R$ 4.4 billion and EBITDA of R$ 7.3 billion in 2021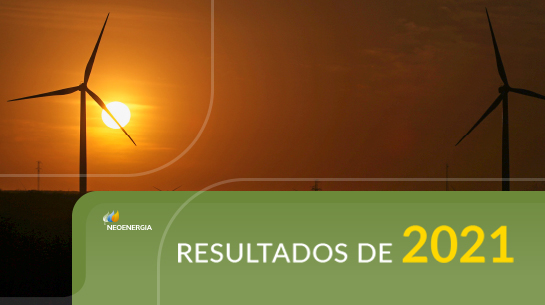 Neoenergia reports earnings of R$ 4.4 billion and EBITDA of R$ 7.3 billion in 2021
​​
​
The Company ended yet another year with significant results and highlighted the startup of operations at its Paraiba wind farm ahead of schedule
Neoenergia announced its fourth quarter and full year Financial and Operating Results for 2021 this Thursday (17). The company reported positive full-year results, with net earnings of R$ 4.4 million, up 57% compared with 2020, and EBITDA of R$ 7.3 billion, a 41% improvement.
2021 highlights include the conclusion of the Neoenergia Chafariz Wind Farm (PB) ahead of schedule, delivery of all the lots won during 2017 auction and its acquisition of lot 4 in the December 2021 transmission auction.
"We maintained our structured strategy and a resilient, sustainable and diversified business model in 2021 and we reported significant earnings and EBITDA growth. Highlights include our cost discipline, ongoing efforts to increase operational efficiency and conclusion of forecast deliveries and investments in line with the business plan. 2021 CAPEX focused particularly on moving ahead with our Transmission and Wind projects. Our relevance in the market also increased, confirming the rebound in economic activity throughout 2021", noted Mario Ruiz-Tagle, Neoenergia CEO.
Confirming the rebound in economic activity in 2021, the company also reported a rising as its distributors continue to grow. In 2021, injected energy was 75,814 GWh, up 3.7 percent year on year. These positive results also reflect investments in Distribution. The company reported a R$ 2.6 billion investments in grid expansion out of a total CAPEX of R$ 3.9 billion in 2021.
The company invested R$ 2.2 billion in Transmission over the year, a R$ 264 million increases compared with 2020. The company also finalized the lots from the April 2017 and December 2017 auctions (Santa Luzia and Jalapão), concluding all scheduled deliveries. Neoenergia also won lot 4 at the National Electrical Energy Agency (Aneel) transmission auction in December 2021 to build a substation in Minas Gerais, which will increase energy security and supplies to various regions across the country.
"Our distributors reported a drop in total losses compared with Q4 2020 and we continue to increase injected energy and report consistent improvements in our operating results. We remain focused on deliveries and management discipline, we are strongly committed to moving ahead with our projects and reinforcing Brazil's electrical system while expanding our portfolio of wind, solar and transmission projects. Neoenergia believes its role goes much further than simply generating financial results and we are supporting society while also building trust-based relationships with our employees, customers and shareholders", said the CEO.
In its renewable energy businesses, Neoenergia invested R$ 2.8 billion in wind power and concluded the Neoenergia Chafariz (PB) Wind Farm, which will add 433 megawatts to the 471 megawatts of installed capacity, increasing generation in 4Q21. The Neoenergia Oitis Wind Farm received its first equipment deliveries, all 103 foundations for the wind turbines have been concluded and the first turbines are now being assembled. The company currently has 32 wind farms in operation totaling 1.6 gigawatts this year.
It also invested R$ 62 million in the Neoenergia Luzia solar sites, where ground has already been broken, in 2021. The Hydroelectric Power Stations received R$ 206 million in investment during 2021, of which R$ 130 million was recognized in Itapebi's intangible assets line item under the GSF agreement for the same period.
In the Liberalized sector, Termopernambuco reinforced the company's positive results. The plant was fully dispatched because of Brazil's power supply requirements in light of the local water crisis. The plant also won the December 2021 Capacity Reserve Auction, selling its entire available capacity of 498 megawatts at a price of R$ 487,412.70 MW/year; supplies will commence on July 1, 2026, guaranteeing fixed power revenues of R$ 207 million annually.
Neoenergia also highlighted the genuine care it takes of its more than 15,000 direct employees through its efforts to create a welcoming and inclusive environment where everybody feels enough support to naturally develop a sense of belonging and feel they are working towards a common goal. The company organized training courses, leadership and career plans and maintained its employee diversity targets.
Neoenergia also has a number of initiatives to improve quality of life in the communities where it operates; this is intended to create value for its more than 15 million customers, its shareholders and the broader population. The company believes its role goes much further than simply generating financial results and it is working hard to support society through initiatives for the most vulnerable in society and minorities. In 2021, it donated food to a number of initiatives as well as refrigerators to families affected by the heavy rains in Bahia; it also continued its employee Volunteering Program targeting a number of activities and supported social transformation projects led by women.