Neoenergia files profit of BRL 1.2 billion in the first quarter of 2022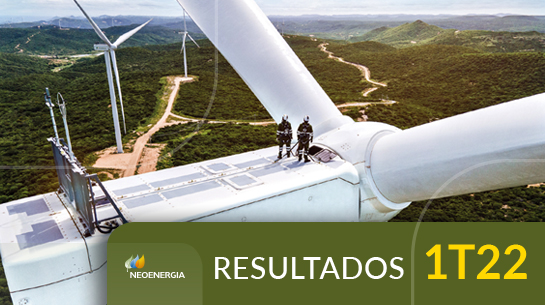 Neoenergia files profit of BRL 1.2 billion in the first quarter of 2022
​​Neoenergia files profit of BRL 1.2 billion in the first quarter of 2022
On Tuesday (April 26th), Neoenergia filed its Financial and Operating Results for the first quarter of 2022. The company filed profit of BRL 1.2 billion, up by 20% on the first three months of 2021. Cash EBITDA was up by 60%, in the same period, to BRL 2.4 billion.
"In the first quarter of 2022, we continued to record significant increases in profit and EBITDA. We maintained our sustainable business model and a growth strategy based on expanding our renewable energy portfolio. We advanced in our transmission, wind, and solar photovoltaic projects, which account for a major part of our investments", said Mario Ruiz-Tagle, Neoenergia CEO.
Committed to expanding its business with a focus on energy transition and decarbonization, Neoenergia invested BRL 808 million in the renewables segment in the period. The highlight is the progress made in wind and solar projects which will be completed in 2022 and will lead the company to reach more than 90% of its installed capacity in clean energy.
In the renewables segment, Neoenergia closed the quarter with a gross margin of BRL 287 million, up BRL 37 million on the same period in 2021. The highlights were the full start of Neoenergia Chafariz's operations, a wind farm with 15 parks in Paraiba state, and the continuation of the construction of Neoenergia Oitis, a wind farm with 12 parks in Piaui and Bahia states, which will be the company's largest undertaking in this area in the country.
The company has invested BRL 364.3 million in Neoenergia Luzia, a solar farm that is being built in the municipality of Santa Luzia, in Paraiba state. In the first quarter of the year, the first solar modules were delivered, and assembly began. Both solar park plants will have a total installed capacity of 149.3 MWdc and have operational synergy with Neoenergia Chafariz.
"Wind and solar projects are evolving quickly, creating jobs and social and environmental benefits for the regions where they are being built, and also generating value for our shareholders", said the CEO.
Also of note are the investments in distribution grid expansion. In the first quarter of this year, concession holders' Capex was BRL 1.3 billion, up by 46% on the same quarter of 2021. Of that, BRL 703 million went into grid expansion. There was an increase of 326,000 active customers, which totaled 15.8 million consumers for the five distributors — Neoenergia Coelba (BA), Neoenergia Pernambuco (PE), Neoenergia Cosern (RN), Neoenergia Elektro (SP and MS) and Neoenergia Brasília (DF). These investments are reflected in the quality of the services provided.
Neoenergia Coelba, Neoenergia Pernambuco, Neoenergia Cosern, and Neoenergia Elektro were within the regulatory limit for both Equivalent Interruption Duration per Consumer Unit (DEC) and Equivalent Interruption Frequency per Consumer Unit (FEC). Neoenergia Brasilia was included in the FEC this quarter. Worth noticing that in the business plan for the acquisition, this indicator was expected to be achieved in 2023.
Regarding losses, Neoenergia Brasilia stood out, down by 12.65%, which is its fifth consecutive quarter indicator reduction. Neoenergia Elektro and Neoenergia Cosern remain below the regulatory target, and all five distributors show a downward trend.
"We also highlight our investments in the expansion of our distribution grid, ensuring quality service for all our clients. The results for the first quarter of 2022 prove our commitment to disciplined management, business resilience, and value creation for our shareholders", noted Neoenergia CEO.
In the Liberalized segment, Termopernambuco filed growth of 138% in net income, to BRL 176 million in the first quarter of 2022, and EBITDA was up by 123%, to BRL 265 million.
Gender equity
In the first quarter of 2022, the company boosted its encouragement of women's participation in the electricity sector. In March, Neoenergia CEO Mario Ruiz-Tagle signed a declaration of support for the Women's Empowerment Principles (WEPs), an initiative fostered by UN Women and the Global Compact, in yet another step by the company to adhering to the UN Sustainable Development Goals (SDGs), namely number 5, which covers gender equality. "We believe that our performance goes far beyond financial results. We want to encourage the expansion of opportunities for women in the electricity sector. We believe in sustainable development and continue to encourage diversity and inclusion as a way to generate value", said Mario Ruiz-Tagle.
One of the company's guidelines is to encourage the professional training of women through the School of Electricians, which provides free training in the Neoenergia's concession areas. By 2030, the company wants to increase female participation in leadership positions and activities related to the operation.