Neoenergia provides guidance for safety during periods of heavy rainfall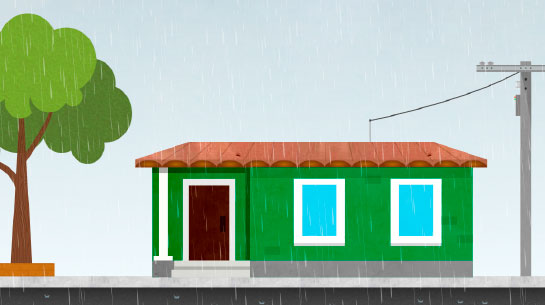 Neoenergia provides guidance for safety during periods of heavy rainfall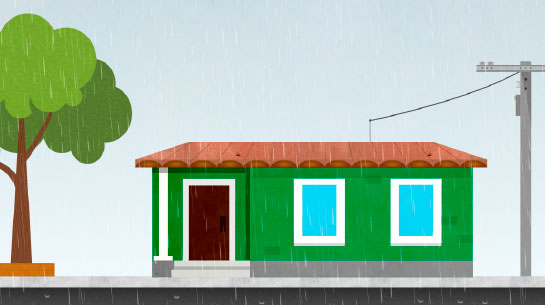 Unplug electronic devices when it is lightning and keep away from trees and uneven cables in the streets are some of the company's tips
During heavy rains, lightning, flooding, and falling trees may affect the energy networks. For this reason, Neoenergia recommends to its over 15.6 million consumers to adopt preventive measures when it is raining, reducing these and other risks caused by weather conditions. The guidelines include unplugging electronic devices in case of lightning, always wearing sandals or sneakers, and staying away from trees or uneven cables.
Consumers who are at home should be alert to the effects of lightning. The atmospheric discharge may cause disruptions to the energy network, in addition to jeopardizing household installations, mainly if the property has inadequate grounding or if there is no system in place. "We recommend the procedure of unplugging all electric devices from the switches during a storm with lightning bolts. Care must be taken when doing this, because it is essential that the person wears shoes and is dry, always pulling the plug and never the wire," explains Harley Albuquerque, Health and Safety manager at Neoenergia.
The presence of humidity on walls with electrical circuits and sockets is another warning to avoid the risk of shocks. In such cases, the sockets should not be touched or used. Also, it is not recommended to carry out maintenance on roofs or TV antennas if it is raining.
When flooding occurs, the first thing residents should do is to turn off the circuit breaker and unplug all electronic devices and appliances. However, if the circuit breaker is in a flooded area, consumers should avoid touching it and should immediately call the local energy distributor, through the service channels of the group's companies – Neoenergia Coelba (BA), Neoenergia Pernambuco (PE), Neoenergia Cosern (RN), Neoenergia Elektro (SP e MS) and Neoenergia Brasília (DF). When the service is restored, a qualified professional shall assess the network before reconnecting the circuit breaker.
If an accident happens, it is necessary to turn off the power source that is causing the electric shock. If necessary, and only after being assured that the power source has been turned off, the victim can be removed from the accident scene. The official rescue service must be called on an urgent basis.
Safety outdoors
Neoenergia's main recommendation for those who are on the streets during heavy rains is to keep away from the energy networks and never touch a fallen wire. "As the rains can be accompanied by winds and falling trees, they can unlevel and bring down electric cables, and the ideal way to avoid risks of electric shock is to call the energy distributor if you find a problem like this," advises Albuquerque.
During rainfall, you should avoid open places like swimming pools, soccer fields, beaches, and high places, looking for sheltered environments. Never stand under trees and metallic structures during thunderstorms with lightning.
Investments in networks
To maintain the service quality for customers during heavy rains, Neoenergia invests in revamping and in the infrastructure of its energy networks in the four distributors. One example is reclosers with self-healing technology, which isolate stretches affected by problems such as falling tree branches, for example. Thus, it is possible to restore service to as many customers as possible within a few seconds. All the company's poles are equipped with lightning rods, strategically installed to enhance the safety of the network.
Service channels
• Neoenergy Coelba: www.neoenergiacoelba.com.br | WhatsApp (71) 3370-6350
• Neoenergy Pernambuco: www.neoenergiapernambuco.com.br | WhatsApp (81) 3217-6990
• Neoenergy Cosern: www.neoenergiacosern.com.br | WhatsApp (84) 3215-6001
• Neoenergy Elektro: www.neoenergiaelektro.com.br | WhatsApp (19) 2122-1696
• Neoenergy Brasilia: www.neoenergiabrasilia.com.br | WhatsApp (61) 3465-9318
• Neoenergia Coelba, Neoenergia Pernambuco and Neoenergia Cosern Customer Relationship Center: 116.
• Neoenergia Elektro Customer Relationship Center: 0800 701 01 02