Neoenergia boosts the training of new professionals and women's participation in the electricity sector
Neoenergia boosts the training of new professionals and women's participation in the electricity sector
​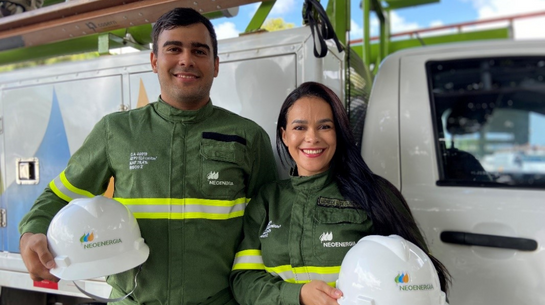 School of Electricians trained more than 700 professionals in 2022 with free training course that includes exclusive classes for women
The School of Electricians, an initiative of Neoenergia that offers training and free professional qualification for residents of the company's locations, formed 702 new electricians in 2022. The course received about 18,300 applications this year and 465 students are still in training. Upon completing the studies, the new professionals can be hired by the group's distributors or enter the labor market of the sector.
"Expanding the generation of employment and income for the population of our concession areas is one of our priorities, and the School of Electricians plays a key role in this. Since the beginning of the project, we have formed 5,075 new electricians and hired 3,728 of them to work within our units. In 2022, we admitted 264 more students of the course, 30% women", reports Régia Barbosa, Superintendent of Organizational Development and Culture of Neoenergia.
Neoenergia was the first company in the segment to provide exclusive classes and reserve part of the vacancies for the female audience. By 2030, the company wants to reach 35% of students who graduate through the course. Since January, 232 women have completed the training and 80 of them have been hired by the company to work in the concessionaire's units.
This year, Neoenergia Brasília inaugurated another unit of the School of Electricians and made available the first exclusive class for the female audience of the distributor, in the Gama region. At the time, the concessionaire also signed a Technical Cooperation Agreement with the Secretary of State for Women (SMDF) and joined the project of the Sou Mais Mulher Network, which promotes women's rights and the confrontation with all types of violence against gender.
The stimulus to the training and admission of women is aligned with the company's business strategy and is part of the commitments defined within the ESG (environmental, social and governance) purpose, seeking to make the segment more inclusive. , UN Women's Programme with the International Labour Organisation (ILO) and the European Union to stimulate good business practices.
The courses of the School of Electricians of Neoenergia are held in partnership with the National Service of Industrial Learning (Senai) in the states of the Northeast and the Federal District. In São Paulo, the training is offered by the Foundation for Technology Support (FAT). Classes are divided between theoretical and practical, enabling a complete training for students. All people over the age of 18, complete high school and National Driver's License (CNH) can apply.