Neoenergia Oitis Wind Complex receives its first transformer, the largest of the company in Brazil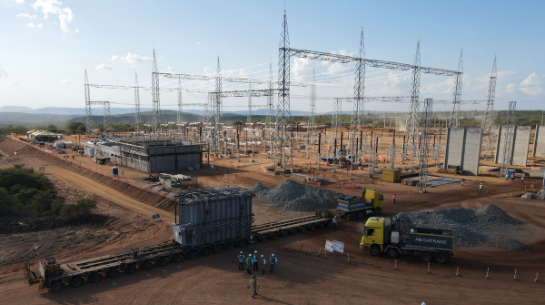 Neoenergia Oitis Wind Complex receives its first transformer, the largest of the company in Brazil
Two other transformers will be delivered in December.





The equipment will be responsible for reliabily connecting the new parks in the Northeast to the electrical system
The works of Neoenergia Oitis Wind Complex, the company's largest wind complex in Brazil, located between Piauí and Bahia, are advancing at an accelerated pace. The first of three transformers to be installed at the Oitis substation, each with a capacity of 230 MVA, has just been delivered.
Manufactured by WEG in Betim (MG), the transformer arrived at the project after 45 days of travel through 3,297 kilometers. Due to the size of the equipment, which measures around 10.1 meters in height and weighs 271.1 tons (filled with oil), a complex logistical operation was necessary. The other two transformers will be delivered in December.
This equipment transforms the energy generated in the turbines so that they are at adequate levels for the transmission system. In other words, at the Oitis substation, where the transformers will be installed, the voltage of the energy produced is raised to 500 kV so that it can travel along the transmission line to the Queimada Nova II (PI) substation, connection point to the National Interconnected System (SIN).
"The Neoenergia Oitis Wind Complex is strategic for Neoenergia and we are continuing its construction at an accelerated pace to generate clean energy, contributing to the Brazilian electricity sector. In 2021, we will start assembling the first wind turbines, ahead of schedule in the business plan, and commercial operations are expected to start in the first half of 2022", says William Carneiro, Neoenergia's Renewable Projects manager.
Oitis will have 12 parks, which will add an installed capacity of 566.5 MW, enough to supply a city with 2.7 million inhabitants. It is a business in line with Neoenergia's ESG (environmental, social and governance) commitments. In addition, 96% of its energy will be sold on the free market, in line with the company's position in the liberalization of the Brazilian market.
The construction of the wind complex also generates several benefits for the region. The works are expected to generate 1.5 thousand jobs, with almost 40% of local labor. Among the positive impacts, there is also the offer of free training courses and donation of food baskets to vulnerable families in the municipalities of Dom Inocêncio and São Raimundo Nonato, in Piauí, and Casa Nova, in Bahia.