Neoenergia guides consumers to avoid electrical overloading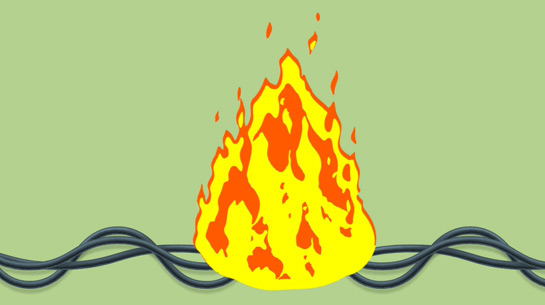 Neoenergia guides consumers to avoid electrical overloading
Improper use of electrical installations may cause accidents in households, which is where most fires caused by overloading the wiring occur
Neoenergia warns its more than 15.6 million consumers about the importance of the safe use of electrical installations. Illegal connections and overloading the wiring pose a risk to the population and the power supply. To avoid accidents, one of the company's safety guidelines is to draw up an electrical project for the construction of the residences and that it must be followed, using quality and appropriate material for the charges.

The use of improper charges and wiring increases the possibility of short-circuiting and other accidents, such as fires. "Residents should maintain a routine of inspections and improvements in the electrical installations of their properties, especially during renovations or if they need to connect new appliances. This work must be done by a qualified electrician, who will be able to check whether the wiring is obsolete or not, and review the electrical project, especially in older homes, which are generally not prepared for the number of electronics we have now", advises the Health and Safety manager at Neoenergia, Harley Albuquerque.

Also, it is important not to use power strip ("T-Benjamin") to plug more than one appliance into the outlet at the same time.

According to the Brazilian Association for Awareness of the Dangers of Electricity (Abracopel), in the Statistical Yearbook of Accidents of Electrical Origin 2021, fires caused by overloading accounted for 38.8% of all accidents occurred in 2020. More than half of these fires occurred in residences, followed by small commercial premises.

The survey also shows that fans and air conditioners are among the main causes of accidents. In such cases, you should not plug several pieces of equipment into the same outlet, to avoid problems such as short-circuits. Moreover, it is necessary to check the condition of the appliance's wiring, which must be in good condition and not stripped. Another tip is to always plug appliances into the outlet by holding the plug, never the cord and always do this while dry and wearing shoes.


Accidents can also be prevented by using residual differential circuit breakers (RCCB). "Keeping this equipment in perfect operating condition will allow that, when any incident occurs, the electrical circuit of the installation will be interrupted, avoiding damage to the circuit and to the electronic devices connected at the moment", explains Harley Albuquerque.
Illegal connections
Illegal connections pose a risk to the entire population and can cause accidents and fires. This happens because, since they are made with no authorization from the energy distributors, they do not undergo a previous study. The electric network is planned to

meet a certain demand, and these connections cause an indiscriminate increase in the amount of charge, potentially resulting in short-circuits.

Neoenergia uses technology and carries out constant inspections of networks to inhibit illegal connections, seeking to provide more safety and quality in the services offered to customers. People can contribute to this work by means of the anonymous reporting channel available on the websites of the group's disributors: