Neoenergia integrates Novo Mercado of B3
Neoenergia integrates Novo Mercado of B3
​​​​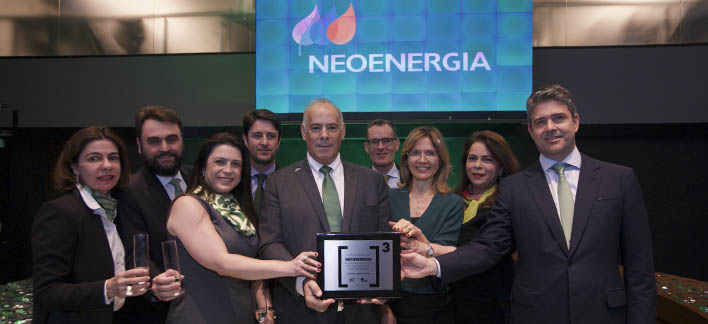 ​Str​ategy: company will continue to work in the energy transition through decarbonisation of the economy
Neoenergia​, one of the leaders of the energy sector in Brazil, concluded this Monday (7/1) the process of IPO (public offering of shares) at B3, in São Paulo. The offer is a milestone in the history of the company, which joins the Novo Mercado of B3, the highest level of corporate governance of listed companies.
In Brazil since 1997, the company will continue to focus on maintaining business and services in the country, where it is present in 18 states, offering the best experience for its 34 million customers. Neoenergia's commitment to the demand for efficient and sustainable energy supply includes investments between 2018 and 2022 of approximately R$30 billion in Brazil. The company has a solid track record of growth, with long-term investments, which strengthen its confidence in the country.
NEW CAPITAL STRUCTURE
With the offering of shares, Iberdrola​​ continues as the controlling shareholder of Neoenergia, with a 50% equity interest plus one share. Banco do Brasil, which has been present in the company's capital since 1997, sold its 9.3% stake in Neoenergia. Previ, in turn, reduced its stake to 32.9%, remaining as a relevant shareholder and a long-term investor. ​
ENERGY TRANSITION AND DESCARBONISATION
Neoenergia​ continues to focus on the energy transition through the decarbonisation of the economy, having made investments in renewable energy generation, mainly wind power - in which the company is already one of the leaders in Brazil. The company maintains its distribution strategy, a segment that has been earmarking approximately 60% of CAPEX, as well as in energy transmission, an essential business for the interconnection of different regions and better utilization of energy resources.
Neoenergia is an integrated company with assets located in the main consumer centers of the country. This allows to capture the increase in energy demand - which is already a reality and must accelerate in the face of economic growth.
Achieving the goals of the United Nations (UN) to reduce greenhouse gas emissions requires the commitment of all (government, business and society) to ensure an efficient energy transition. Neoenergia is engaged in this purpose through grid technologies, clean energy generation and energy efficiency. The strategy is in line with the bet started more than 20 years ago by Iberdrola, the company's parent company.
Electrification of Brazil's economy is imperative in the Digital Age and Intelligent Cities. The presence of Neoenergia from generation to commercialization of renewable energy, at competitive cost and available with safety and quality in all regions of the country, results in sustainable development, population well-being, social inclusion and quality of life.
ABOUT NEOENERGIA
Controlled by the Spanish group Iberdrola, Neoenergia has been operating since 1997 in Brazil. Since then, it has expanded its activities and now has distribution, generation, transmission and commercialization assets in 18 states. It brings together the distributors Coelba (BA), Celpe (PE), Cosern (RN) and Elektro (SP). The four companies serve 13.9 million customers, which corresponds to about 34 million people - which makes Neoenergia the second largest group in Brazil in terms of number of consumers.
One of the vectors of growth in Brazil is the investments in transmission. The group has three projects in operation (679 km long) and 10 under construction (4.7 thousand km). In wind energy, renewable, Neoenergia has 17 wind farms in operation (516 MW capacity) and another 15 are under construction (with a further 471 MW capacity). In hydroelectric generation, the numbers are: 6 plants in operation and 1 under construction, a total of 3,000 MW of which only 10% still in implementation. The group also owns natural gas thermoelectric plant of 533 MW. Also worthy of note was the commercialization of energy, which increased by 10% in 2018, with the sale of 1.5 GW/m, following the trend of free market expansion.
ABOUT IBERDROLA
Iberdrola is a global leader in renewable energy, a pioneer in wind power generation and one of the largest electricity companies in the world by market value. The Group operates in several countries and supplies energy to around 100 million people, mainly in Spain, Brazil (Neoenergia), the United Kingdom (ScottishPower), the United States (AvanGrid) and Mexico. With a staff of approximately 34 thousand people and assets exceeding 113 billion euros, it registered a revenue of 35 billion euros and a net profit of 3.014 billion euros in 2018.
Iberdrola leads the energy transition to a sustainable model through investments in renewable energy, smart grids, large-scale energy storage and digital transformation to offer the most advanced products and services to its customers. Thanks to its commitment to clean energy, it is one of the companies with the lowest emissions and an international reference for its contribution to the fight against climate change and sustainability.