Neoenergia signs substation concession contract in Minas Gerais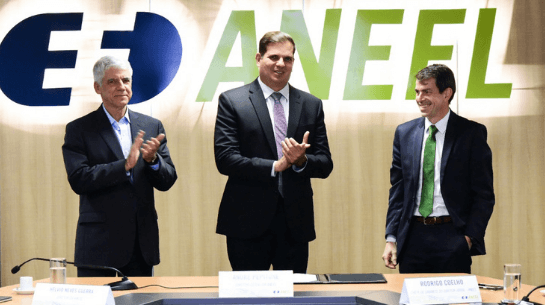 Neoenergia signs substation concession contract in Minas Gerais
​​​​​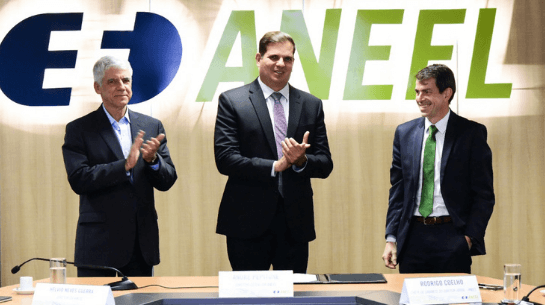 Company acquired lot 4 of the auction held by ANEEL in December 2021, which provides for the installation of three synchronous compensators
Neoenergia and the National Electric Energy Agency (ANEEL) signed on Wednesday (30) the concession contract for the installation and operation of three synchronous compensators in the Estreito substation, in Minas Gerais. The project was auctioned in lot 4 of the auction 02/2021, held by the regulatory body in December last year. The signing ceremony took place at ANEEL's head office in Brasilia
"This is another neoenergia project to contribute to the Brazilian electricity sector and is aligned with the company's growth strategy in the market. The investment expands the area of operation in a strategic way in the Southeast region and reinforces the group's presence in the Transmission segment," said Fabiano Uchoas, Director of Transmission and Subtransmission Projects at Neoenergia.
The installation of synchronous compensators aims to give greater reliability and operational flexibility in critical scenarios of high energy import in the Southeast region, in addition to ensuring voltage control in the São Paulo system, a state with the highest energy consumption in the country. The equipment will have power of -300/+300 Mvar and the Estreito substation operates with voltage at 500 kV.
The synchronous compensator is already used by Neoenergia in other transmission undertakings and serves to make voltage and power adjustments within the substation. Thus, it reinforces the stability and quality of service in the National Interconnected System (SIN). In addition to contributing to the safety of the electricity sector, the project generates economic and social development in the region. It is expected to create more than 1,600 direct jobs during construction.
In line with the company's strategic premises, the investment has a representative increase in revenue generation. The asset was auctioned at An Annual Allowed Revenue (RAP) of R$ 37.1 million, updated annually by the IPCA. The investment forecast by ANEEL is about R$ 660.9 million and the maximum period of entry into commercial operation established by ANEEL is 48 months, concluded in March 2026, and this period is expected to be anticipated.
​