Neoenergia's distributors maintain quality indicators at levels higher than those established by ANEEL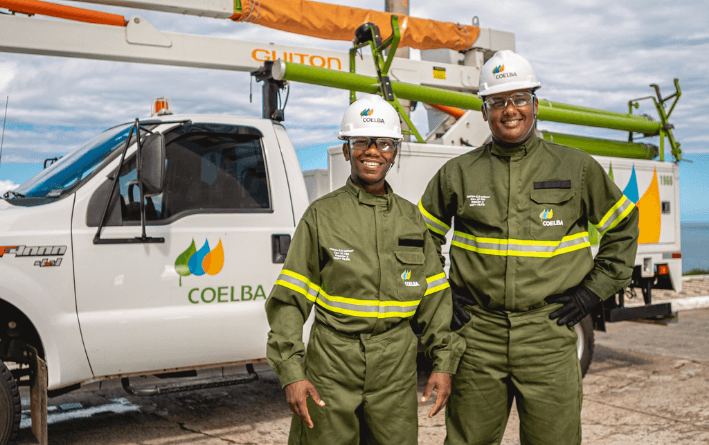 Neoenergia's distributors maintain quality indicators at levels higher than those established by ANEEL
A paragraph is a self-contained unit of a discourse in writing dealing with a particular point or idea. Paragraphs are usually an expected part of formal writing, used to organize longer prose.
​
Com investimentos em tecnologia e expansão de redes, Coelba, Celpe, Cosern e Elektro continuaram com DEC e FEC dentro da previsão da agência reguladora
Os investimentos da Neoenergia em tecnologia e expansão de redes se refletem na qualidade dos serviços prestados aos seus 15,6 milhões de clientes. No segundo trimestre de 2021, as distribuidoras Coelba (BA), Celpe (PE), Cosern (RN) e Elektro​ (SP e MS) mantiveram os indicadores DEC (Duração Equivalente de Interrupção por Consumidor) e FEC (Frequência Equivalente de Interrupção por Consumidor) enquadrados na previsão da Agência Nacional de Energia Elétrica (Aneel), demonstrando o resultado positivo da estratégia da companhia. Com o início da gestão do grupo na sua mais nova concessionária, a Neoenergia Distribuição Brasília (DF) apresentou evolução de 18% no DEC de abril a junho deste ano.
Uma das tecnologias utilizadas é o sistema de self healing​ (auto recomposição, na tradução do inglês), que conta com equipamentos dotados de inteligência para isolar trechos atingidos por eventuais problemas – muitas vezes fatores externos, como quedas de galhos de árvores, por exemplo – e repará-los de forma automatizada. Assim, o fornecimento pode ser restabelecido para o maior número possível de clientes em até 60 segundos. Ao todo, a companhia possui cerca de 13 mil equipamentos religadores, dos quais 17% contam com o sistema, instalados em 472 municípios. Como os indicadores DEC e FEC aferem as falhas ocorridas na rede, a ampliação do self healing é um dos principais fatores que refletem no bom desempenho das empresas do grupo.
A Coelba registrou DEC de 10,82 horas no segundo trimestre de 2021, abaixo do limite regulatório, que era de 13,68, e menor do que o do mesmo período do ano passado, quando apresentou 12,53. A companhia teve FEC de 5,19 de abril a junho deste ano, também inferior ao previsto pela Aneel (7,56) e ao do segundo trimestre de 2020 (5,73).
Na Celpe, o DEC registrado no 2T21 foi 12,38, enquanto o indicador máximo do órgão regulador era 13,27. A frequência de interrupções, calculada em 5,55, também foi menor do que a prevista pela agência, que era 8,11.
O DEC da Cosern no período foi 7,89, melhor do que o limite regulatório, que era 11,35, e o FEC registrado foi de 3,08, abaixo dos 7,53 estabelecidos pela Aneel. A Elektro apresentou DEC de 7,53 – enquanto o limite regulatório era de 8,15 – e FEC de 4,38 – menor do que a meta do órgão regulador, que era 6,19.
Apesar de ainda estar acima do limite regulatório, na Neoenergia Distribuição Brasília já é possível ver o impacto positivo do modelo de gestão da companhia. O período de abril a junho de 2021 foi o primeiro trimestre totalmente sob a administração da companhia e o DEC foi de 8,50, melhor do que o indicador dos mesmos meses do ano passado, quando apresentou 9,14. Com a realização de manutenções preventivas e investimentos em tecnologia, foram evitadas mais de 400 mil interrupções no fornecimento.
Investimentos e outras tecnologias
O Capex das empresas no primeiro semestre de 2021 foi de R$ 1,8 bilhão, dos quais R$ 1,2 bilhão foi destinado à expansão de redes, o que inclui serviços como a construção de novas subestações e redes de distribuição em todas as áreas de concessão, reforçando o sistema elétrico nessas localidades e dando mais confiabilidade e segurança. Os recursos incluem ainda a instalação de equipamentos de automação de redes, como o self healing, e a modernização, entre outros investimentos.
A inovação é uma estratégia que vai além das redes e passa também por outras áreas das distribuidoras, como a gestão de remota de equipamentos de redes e subestações. Para isso, a Neoenergia conta com Centro de Gerenciamento de Redes Inteligentes​ (Cegri), localizado em Salvador, na sede da Coelba, de onde já são monitorados mais de 75 mil dispositivos – entre operações de telecomunicações e de redes e equipamentos como religadores, medidores, sensores e transformadores inteligentes.
O controle das atividades das equipes de campo também é realizado de forma automatizada por meio de softwares, o que permite atividades de prevenção e solução de falhas com mais agilidade. O grupo está desenvolvendo no projeto SISCON (Sistema de Controle da Neoenergia) uma solução de Sistema de Gerenciamento Avançado da Distribuição (ADMS, na sigla em inglês) que deve integrar a gestão de ativos e GIS (Sistema de Informação Geográfica, em tradução do inglês). Essa é uma tendência global que, quando tiver a implantação concluída, será na Coelba a maior solução em volume de dados entre as distribuidoras de energia elétrica do mundo. ​
​​

​