Quality of management of Neoenergia distributors is attested in three ISO Certifications
Quality of management of Neoenergia distributors is attested in three ISO Certifications
A paragraph is a self-contained unit of a discourse in writing dealing with a particular point or idea. Paragraphs are usually an expected part of formal writing, used to organize longer prose.
​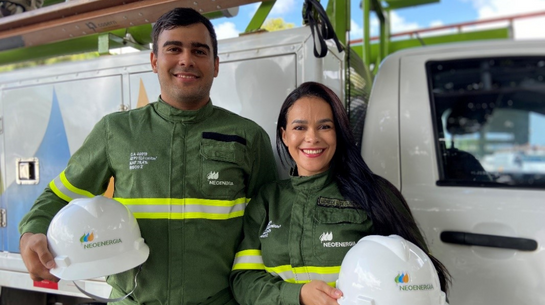 Auditores externos analisaram as cinco distribuidoras de energia do grupo em 162 requisitos, incluindo satisfação do cliente e ações para preservar o meio ambiente
As distribuidoras da Neoenergia foram reconhecidas através das certificações ISO. A Qualidade da Gestão, o nível de Satisfação do Cliente e o Sistema de Gestão Ambiental foram recomendados através das Certificações ISO 9001, ISO 10002 e ISO 14001, respectivamente. Os processos de recertificações ocorreram após a análise de 162 requisitos por auditores externos na Neoenergia Coelba (BA), Neoenergia Cosern (RN), Neoenergia Pernambuco (PE), Neoenergia Elektro (SP e MS) e Neoenergia Brasília (DF).
"A Neoenergia atua com foco, eficiência, qualidade nos serviços, no atendimento de excelência ao cliente e engajada na sustentabilidade e descarbonização do planeta. Essas recertificações comprovam nosso comprometimento em construir uma empresa sólida, proporcionando crescimento econômico e social nas nossas áreas de atuação e concessão", ressalta Andréia Ramalho, gerente de Processos e Sistemas Técnicos da Neoenergia.
As empresas do grupo receberam 10 auditores que avaliaram, ao longo de aproximadamente um mês, 162 requisitos. O processo foi realizado pelas certificadoras Bureau Veritas Certification (BVC), para as avaliações de Qualidade e Meio Ambiente; e a Asociación Española de Normalización y Certificación (AENOR), para o tema de Tratamento de Reclamações. A Neoenergia alcançou 100% de eficiência nas questões analisadas.
"Para atingirmos esse resultado, inovamos no modelo de auditoria interna. Fizemos o que chamamos de avaliação interna, que funciona de forma mais próxima às áreas auditadas, formando parcerias contínuas para que o trabalho permaneça ao longo do tempo", complementa Andréia Ram​alho.
No total, foram utilizadas cerca de 600 horas em assessoramentos, com esclarecimento de dúvidas sobre processos vinculados às certificações e suas respectivas evidências.
ISO
ISO 9001 - é um sistema de gestão que tem o objetivo de dar mais eficiência à empresa, otimizando e dando mais agilidade aos processos, além de representar uma forma de documentar a cultura da organização;​
ISO 10002 - considera, para a satisfação dos clientes, os processos de coleta, análise e resolução de reclamações desses consumidores;
ISO 14001 - são considerados os requisitos da organização para desenvolver uma estrutura de preservação do meio ambiente.​​