Neoenergia reinforces priority health care and water supply
Neoenergia reinforces priority health care and water supply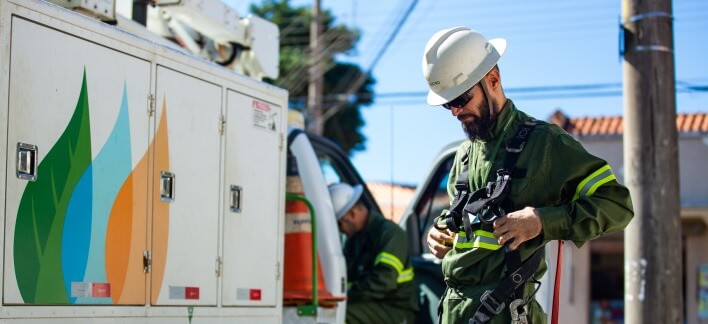 Neoenergia,a company of the Iberdrola group with energy distributors in Bahia (Coelba), Pernambuco (Celpe), Rio Grande do Norte (Cosern) and São Paulo / Mato Grosso do Sul (Elektro), reinforced priority service to the health, sanitation and water supply sectors directly related to the fight and containment of the progress of Coronavirus.
Exclusive channels are being made available to respond with greater agility to eventual occurrences in hospitals, health units and water and sewage companies.
In addition, as part of the Covid-19 dissemination prevention plan, Neoenergia distributors will maintain operational and commercial services essential to the population and to the operation of the business. The other activities carried out by the companies in the concession areas are suspended momentarily. The measures aim to reduce the exposure of clients and employees to the risk of contagion and ensure the work of health professionals and institutions.
Neoenergia requests that customers, in general, prioritize the use of digital channels to request services and emergency care, available 24 hours a day.
In case of extreme need for service in one of the stores, the company has already adopted the necessary prevention measures such as cleaning the sites, guidance to attendants to maintain safe distance between customers and avoid physical contact, as well as the use of alcohol gel for hand cleaning.
The company also recommends that the population avoid physical contact with leiturists and technicians. Professionals who perform field activities received all prevention guidance.
Preventively, educational activities of energy efficiency, in addition to the actions of exchange of recycled material and distribution of LED lamps, are suspended. The normal calendar will be resumed after a future evaluation of the advance of the spread of the virus, since the measure was adopted with a focus on the health and safety of communities, employees and their families.
The digital channels provided by Neoenergia's distributors are:
Customer Relationship Center:
116 (Coelba, Celpe, Cosern and Elektro)
Sites:
Application:
IOS and Android system
Official channels on Social Networks:
Facebook
Twitter
SMS to report power outage:
Celpe/Coelba/Cosern: 26560
Elektro: 28116