Neoenergia awards students and teachers of the Education with Energy project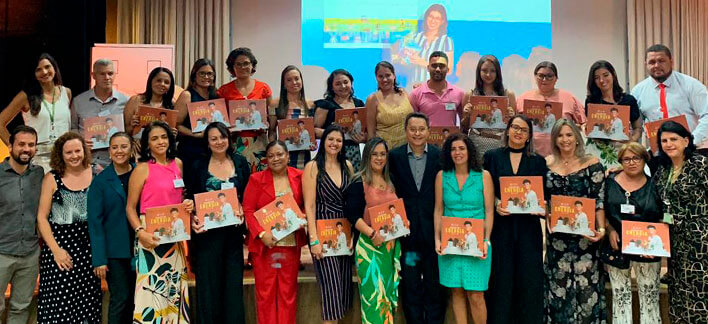 Neoenergia awards students and teachers of the Education with Energy project
Teachers and students from the States of operation of Celpe, Coelba and Cosern, Neoenergia distributors, gathered this week for the closing event of educational actions of the Education with Energy project, developed as an initiative of the respective companies' Energy Efficiency Program. The meetings, held at the three distributors' headquarters building, awarded the 10 best educational initiatives, with an approach on the theme "Energy Efficiency", developed in 2019.
The students who stood out in the projects were awarded in the events. At the same time, the book "Education with Energy" was launched, which consolidates the results obtained during the year, with texts and images of the experiences carried out in the participating schools.
Regulated by the National Electric Energy Agency (Aneel), the Education with Energy project has several fronts: Energy Classes, Tô Ligado na Energia Festival (I´m tuned on Energy, in English) and Energy that Transforms. All conducted with the student public and focusing on the dissemination of concepts for the efficient and safe use of energy.
The initiative, which also has the support of WWF-Brasil and the Secretariats of Education, Pernambuco and Rio Grande do Norte had the participation of:​
40,125 students, 2,163 teachers and 447 schools in Salvador and the interior of the state.

37,152 students, 2,491 teachers and 449 schools in Recife, Metropolitan Region and the interior of the State.

22,688 students, 1,171 teachers and 217 schools participating in the great Natal and the interior of the state.
The educational actions of the Tô Ligado na Energia Festival earned the Neoenergia Group the ODS Global Compact 2019 Award, in the Partnerships/Large Companies category. The partnership with the musician Carlinhos Brown in the use of the characters Paxuá and Paramim contributed to the achievement of the award.
ENERGY THAT TRANSFORMS
The project promotes the educators qualification on the topics Energy Efficiency, Safety in the use of Energy and Renewable Energy, using the Energy that Transforms Methodology, developed by Fundação Roberto Marinho/Canal Futura. WWF was responsible for raising teachers' awareness on the theme of environmental preservation.
"TÔ LIGADO NA ENERGIA" FESTIVAL
To promote reflection on the safe and efficient use of energy, through a contest, the "Tô Ligado na Energia" festival is held in public schools, stimulating the multiplication of content in a playful and fun way, moving the school unit, student family and surrounding communities.
ENERGY CLASSES
Formed by a network of Educational Spaces. The spaces enable consumers´ learning, so that they become more responsible and sensitive citizens about the need to take care of the natural resources available on the planet.​