Neoenergia modernizes and expands smart grid monitoring center operation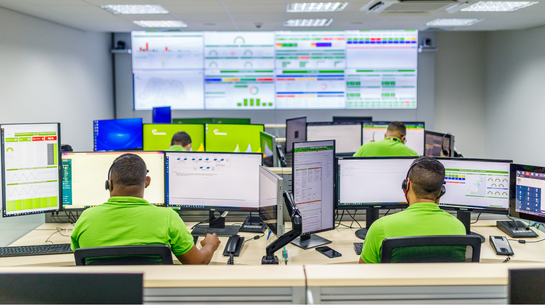 Neoenergia modernizes and expands smart grid monitoring center operation
A paragraph is a self-contained unit of a discourse in writing dealing with a particular point or idea. Paragraphs are usually an expected part of formal writing, used to organize longer prose.
​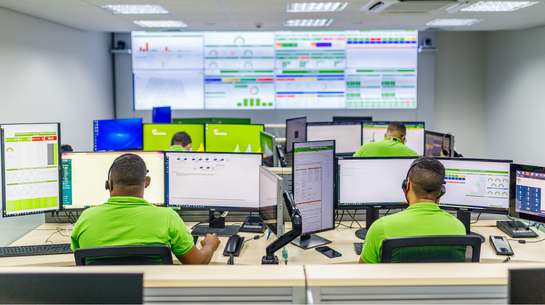 Companhia inicia o acompanhamento em tempo real dos sistemas e dispositivos digitais da Neoenergia Brasília
A Neoenergia ampliou a atuação do Centro de Gerenciamento de Redes Inteligentes (CEGRI) e iniciou a supervisão de aproximadamente 2 mil equipamentos da distribuidora de energia elétrica da companhia no Distrito Federal, a Neoenergia Brasília. Com a expansão, cerca de 75 mil dispositivos das cinco concessionárias que integram o grupo — Neoenergia Coelba (BA), Neoenergia Pernambuco (PE), Neoenergia Cosern (RN) e Neoenergia Elektro (SP e MS), além da empresa na capital federal — passam a ser acompanhados pela central, localizada em Salvador, na Bahia.
O CEGRI conta com tecnologia de ponta em supercomputadores que combinam data analytics com inteligência artificial, permitindo a correlação de alarmes e a predição de falhas e ocorrências dos equipamentos monitorados, e os dados coletados são usados para basear a tomada de decisões.
"O CEGRI tem o papel fundamental em garantir que nossas redes inteligentes possuam a confiabilidade necessária para entregarmos com eficiência a melhor qualidade possível para os quase 16 milhões de consumidores da Neoenergia. Para isso, utilizamos o que há de mais moderno em tecnologia com foco na gestão em tempo real, maior disponibilidade e resiliência das nossas redes operativas", afirma Ricardo Leite, superintendente de Smart Grids da Neoenergia.
São supervisionados pela central os ativos digitais da companhia e as operações de telecomunicações e de redes inteligentes, acompanhando em tempo real, por exemplo, o funcionamento de roteadores, servidores e dispositivos de automação e telemedição. O foco é ter proatividade na atuação, agindo de maneira rápida para diminuir ou evitar impactos negativos na rede elétrica em eventos envolvendo as tecnologias.
Outro benefício do monitoramento centralizado é uma maior eficiência no atendimento de ocorrências. Os especialistas dos Centros de Operações das distribuidoras trabalham em conjunto com o CEGRI, otimizando também a atuação em campo.
A centralização do monitoramento faz parte da estratégia de digitalização da Neoenergia, um dos pilares dos investimentos da companhia voltados à transição energética. As redes inteligentes são essenciais para apoiar a descarbonização do setor elétrico, que precisará orquestrar um sistema mais complexo de distribuição com a expansão de novas fontes renováveis. Entre os compromissos ESG (ambiental, social e de governança, na sigla em inglês) da Neoenergia está o alcance de 90% das redes de alta e média tensão digitalizadas até 2030.