Neoenergia Executive honored as Wind Ambassador at Brazil Windpower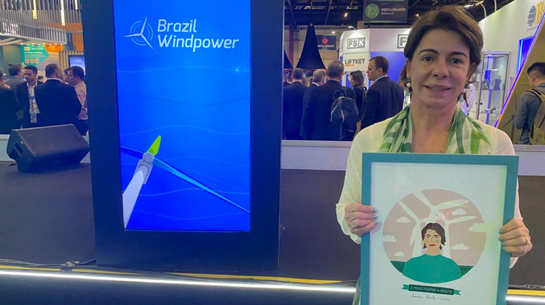 Neoenergia Executive honored as Wind Ambassador at Brazil Windpower
​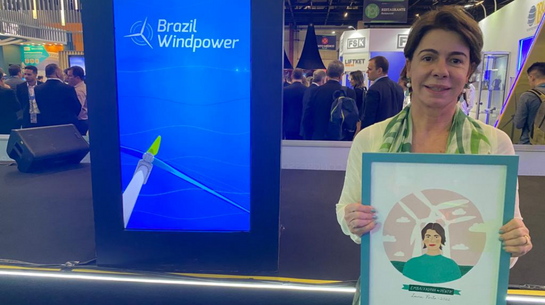 Laura Porto has a career of more than 20 years in the segment and her contribution was recognized in the main wind energy event in Latin America
The Executive Director of Renewables of Neoenergia, Laura Porto, received the title of Ambassador of the Wind in the main congress and business fair of Latin America on wind energy, Brazil Windpower. The tribute is a recognition of more than 20 years of contributions to the development of wind energy in the Brazilian electricity sector.
In a speech of thanks, the executive recalled the changes in the market in the last two decades, from the time when it was considered an alternative source until the current debate on offshore wind. In addition, it reinforced the importance of acting with ethics, economic and socio-environmental responsibility and in a more humane, collaborative and diverse organizational culture.
" Today a word that can sum up what I'm feeling is gratitude. Gratitude for having contributed to the renewables sector in Brazil, and having experienced living with people who helped me to be a better person. Gratitude for working in a company, Neoenergia, which believes that the future of renewable energy has already begun 16 years ago, when it deployed its first wind farm. Gratitude to see a future as challenging as the birth of offshore wind and to know that the experience of the onshore wind sector will pave this road", said Laura Porto.
As executive director of Renewables at Neoenergia, the executive leads the expansion of the company's portfolio, which will reach this year the milestones of tripling the installed capacity in wind and reaching more than 90% in clean energy. Laura Porto is also an advisor to the Brazilian Association of Wind Energy and New Technologies (ABEEólica) and neoenergia companies. It operates at the forefront of renewable energies in the country, in prominent positions. At the Ministry of Mines and Energy (MME), he coordinated the Incentive Programs for Alternative Sources of Electric Energy (Proinfa) and Light for All, in addition to having participated in the implementation of the Energy Efficiency Law and the National Plan on Climate Change.