Commercial Attendant, the link between the customer and the company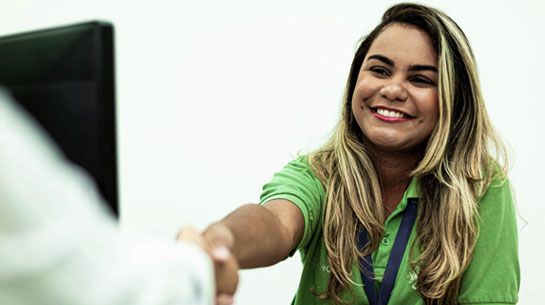 Commercial Attendant, the link between the customer and the company
On October 30, the date in which we celebrate the Commercial Attendants, we will tell a little of the history of professionals responsible for building a close relationship with the customers ofCoelba, Celpe, Cosern e Elektro , distributors of Neoenergia Group.
Larissa Fernandes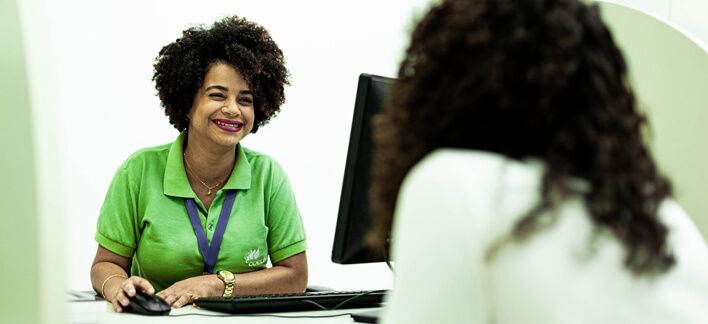 "Our customer needs attention. When we are in a service, our main purpose is to understand the issue and come up with the best solution";
Larissa Fernandes, attendant at Coelba Store in Salvador's Pirajá neighborhood, knows the customers of the Neoenergia distributor in Bahia well. She has been serving them for over three years since joining the Call Center team. She then went through the ombudsman team and finally began to attend face to face all the public who visits the unit. The routine from 08h to 17h is even more rewarding when she receives customer recognition. "There´s always that special customer, who visits us every month. We ended up bonding and recognition brings us the assurance that we are doing our best," she reveals.
Denys Carpegiane da Silva Dias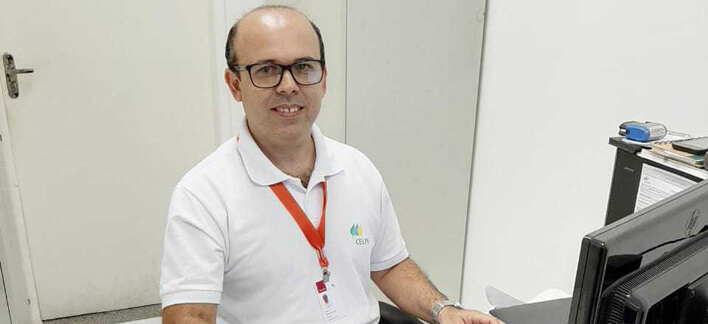 Denys started atCelpe in the young apprentice project. Then he was part of the company's team of readers and today works in the Company's store service. The professional is very proud to serve the Pernambuco distributor. For him, what makes him happier in the profession is the satisfaction of seeing in the customer's eyes that his/her request has been solved.
Joyce Tasso and Elaine Freitas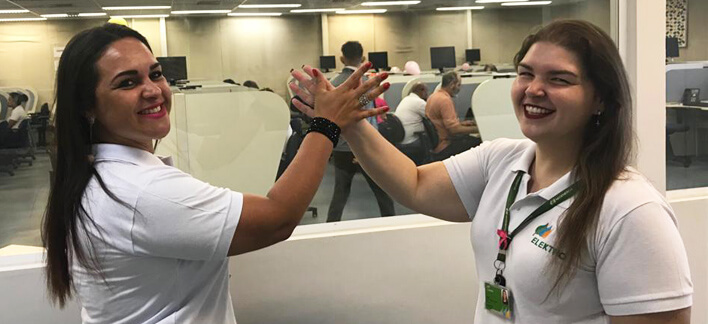 Joyce Tasso works as a relationship agent forElektro, Neoenergia distributor that serves the municipalities of São Paulo and Mato Grosso do Sul. "I do my job the way I would like it to be done for me. There are situations that are not in our hands, we cannot solve it right away, but we have to give confidence to the customer, always doing everything possible for him/her get the best service. In the end, everything is very rewarding, especially when the customer says: "Stay with God, thank you very much." It's rewarding to receive customer recognition," she says.
Elaine Freitas also plays the same role in Elektro. "Every day is a new experience. I try to strive for excellence in service and customer satisfaction and thereby gain professional and personal experiences as well. The satisfied customer there also makes us happy here. His/her satisfaction and gratitude is priceless," she says.
Samella Tassilla Victor Miguel Rezende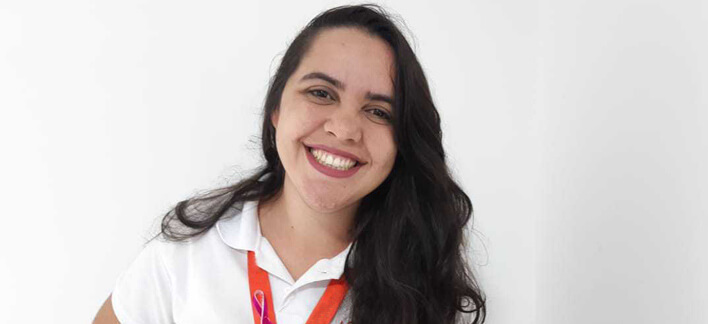 "It is satisfactory when the customer leaves the agency praising us and thanks for the service provided," says Samella Rezende, commercial attendant of Cosern, Neoenergia distributor in Rio Grande do Norte. The professional works at the concessionaire service store, located in Partage Nort Shopping. "I entered the profession after completing my degree in Environmental Engineering. Due to the lack of market opportunities for my education, I chose this area and ended up delighted with the service", she concludes​